RECIPE: Pumpkin Pancakes (Fat-Burning Flapjacks)
RECIPE: Pumpkin Pancakes (Fat-Burning Flapjacks)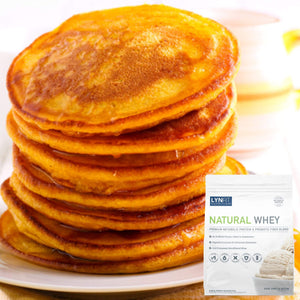 Only 3 Ingredients… Cooks in Less Than 1 Minute!
This is the world's healthiest pancake. A go-to recipe for those mornings when you're in the mood for something warm and filling that's good for you, too! 
(1 scoop) Vanilla Dream Natural Whey Protein
(1 tbsp.) Pure pumpkin purée
(1 large) Egg white
(1 tsp.) Pumpkin spice
Mix the protein powder, pumpkin, egg white, and pumpkin spice in a small bowl. Spray the pan with spray oil and pour the mixed contents into the skillet on medium heat. Cook until done — 1–2 minutes per side, or less (careful not to overcook). Top with Walden Farms Zero Calorie Maple Syrup.