RECIPE: Fat Flush, Health Boosting Smoothie
RECIPE: Fat Flush, Health Boosting Smoothie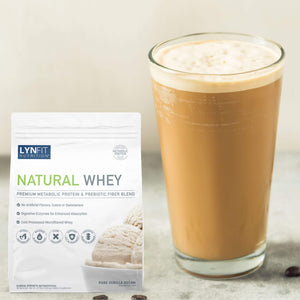 If you hate swallowing pills and want to jumpstart your weight loss or prevent weight gain, you'll love this smoothie recipe! It makes it easier and boosts absorption, so it works faster, making it easier for your body to start burning off stored belly fat, which also flips on the weight loss switch.
Combine:
(¾ cup) Cold water
(1 tsp.-1 tbsp.) Instant coffee
(1 scoop) LynFit Natural Whey Protein Powder (Vanilla Dream or Chocolate Dream)
(1) LynFit Keto Carb Edge or Cutting Edge
Ice (optional) Add five ice cubes for thickness
Blend to desired thickness and enjoy!