RECIPE: Pumpkin Power Smoothie (Pumpkin Pie In-a-Glass)
RECIPE: Pumpkin Power Smoothie (Pumpkin Pie In-a-Glass)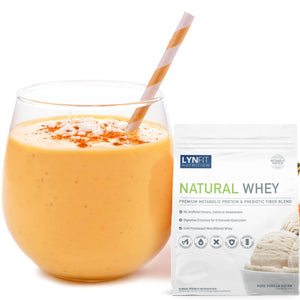 Carb-Free, Sugar-Free, Gluten-Free, Dairy-Free, Clean Keto, Low Calorie, Low Fat
When pumpkin and Natural Whey Protein are paired, nutrient absorption increases, blocking carbohydrates and sugars from being absorbed, helping to balance blood sugar levels and slow aging. Healing and recovery are improved, which helps reduce aches and pains, making it the first step when making any health improvements/changes.
Serves 1 — 3 Ingredients — Takes Less Than 5 minutes
Combine the following in a blender until the desired consistency is reached.
(1 scoop) Vanilla Dream Natural Whey Protein
(½ cup) Pure pumpkin purée
Dash of pumpkin pie spice (Nutmeg can be substituted)
(¾ Cup) Cold Water -- Add more water if you prefer a thinner smoothie
Handful of ice cubes, if desired
Blend and ENJOY this guilt-free pleasure!