RECIPE: Melt Fat 1-Minute Pumpkin Mug Cakes
RECIPE: Melt Fat 1-Minute Pumpkin Mug Cakes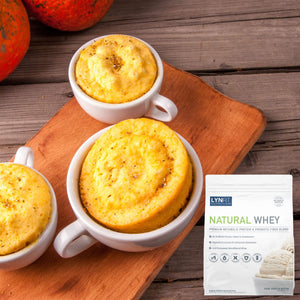 Only 3 Ingredients… Cooks in Less Than 1 Minute!
The perfect and powerful combination of LynFit Natural Whey Protein + pumpkin boosts metabolism and muscle function because it is a good source of potassium, a nutrient we all need more. And the amino acids and muscle-relaxing magnesium also help ease stress too!
Combine the following in a microwave-safe mug or Mason jar.
(1 scoop) Vanilla Dream Natural Whey Protein
(½ cup) Pure pumpkin purée
Dash of pumpkin pie spice (Nutmeg can be substituted)
Dash of water, if needed
Stir until combined and microwave for 50-60 seconds. Keep an eye on it while microwaving, as it can be done in as little as 30 seconds, depending on your microwave strength.
ENJOY this quick fix the next time your cravings strike!