RECIPE: Frothed Bourbon Hot Mocha Latte
RECIPE: Frothed Bourbon Hot Mocha Latte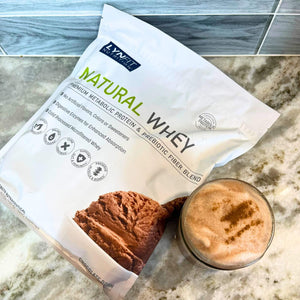 Give your coffee a metabolic boost, lose more weight, & burn belly fat. 
Win at the first nutrition decision you make every day. Swap out the current milk (non-dairy, dairy, and nut) you're adding, and prioritize protein instead!
Delicious Benefits - Naturally:
Boosts metabolism
Reduces and balances blood sugar, cholesterol, triglycerides, and blood pressure
Strengthens bones
Firms and tightens skin
Improves digestion and gut health
Kills cravings and blunts hunger signals
The list of health benefits is endless! One simple change = huge results. Crush your goals deliciously!

Blend the following:

(½ cup) Very cold pre-brewed bourbon black coffee
(1 heaping scoop) LynFit Chocolate Dream Natural Whey Protein 
Blend on medium speed until froth forms. Note: Froth times may vary according to blender speed.

Top warm black bourbon coffee with froth and microwave for one minute or less if needed. Garnish with sprinkled cinnamon or chocolate protein powder.